About Ayesha: Specialties and Training | Patient Testimonials | Events and Workshops
Ayesha Atique, L.Ac., Dipl.OM., MSTOM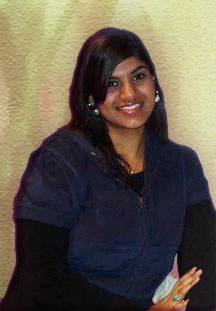 Ayesha is board certified in Acupuncture and Chinese Herbology by the NCCAOM (National Certification Commission for Acupuncture and Oriental Medicine) and is a Diplomate in Oriental Medicine (Dipl.OM.), as well as licensed as an Acupuncturist by the State of Illinois.
Ayesha received her Masters of Science in Traditional Oriental Medicine (MSTOM) from Pacific College of Oriental Medicine, one of the most prominent colleges training Oriental Medicine practitioners in the U.S. today; she received extensive training in acupuncture, Chinese herbology, and other accessory techniques used to treat disorders from a wide variety of disease causes.
Prior to receiving her MSTOM, Ayesha earned her BA in Psychology from the University of Illinois at Chicago. Her background in Psychology coupled with her Traditional Oriental Medicine education serves as a tremendous foundation in being able to not only understand where patients are coming from, but where they are hoping to go with their health and all the obstacles that arise in that journey.
View my professional profile on Acufinder.com »
Specialties and Professional Philosophy
Growing up, Ayesha was always interested in the field of medicine. After much research and consideration, she opted to pursue alternative medicine because of her strong belief in the effectiveness of this modality. Having overseen the care of her own sister's four pregnancies; friends and acquaintances began to seek out her assistance for their pregnancy related issues and care. Her interest and experience naturally grew towards Obstetrics.
Ayesha now specializes is Obstetric Acupuncture, which offers safe and effective treatments during pregnancy and postpartum, in some instances with greater efficacy than the current conventional western medical care available. Ayesha's passion for women's health and commitment to help women in their pursuit of motherhood, inspired her to extend her specialties to include Fertility Acupuncture. Ayesha has successfully overseen the care of countless women undergoing ART and has treated a wide array of difficult cases resulting in successful pregnancies including (but not limited to): high FSH levels; PCOS; recurrent miscarriages; unexplained infertility cases and repeated failed IUI and IVF cycles.
In her work, Ayesha has found stress and anxiety to be major factors complicating women's quest for fertility. One of her main goals in treatments is to significantly reduce the levels of stress and anxiety so that both she and the patient can better tackle the underlying issues.
Ayesha firmly believes that combining Western and Eastern medicine in your fertility journey is the key to attaining success. She has seen first hand amazing changes and positive impacts on women's fertility; triggering numerous Reproductive Endocrinologist to not only appreciate Traditional Chinese Medicine, but to recommend it to their patients.
Ayesha has given numerous talks and lectures on behalf of Fertility Centers of Illinois (FCI) and Pulling Down the Moon on Acupuncture & Chinese Medicine's role and impact on fertility.
Advanced Postgraduate Training
Ayesha pursues postgraduate training in Reproductive, Obstetric, Postpartum and Pediatric acupuncture to stay up-to-date on the most current advancements in acupuncture. Her advanced training includes study with top-notch experts in the field including:
About Ayesha: Specialties and Training | Patient Testimonials | Events and Workshops | Back to top »